ERC REFINE project: four state-of-the-art BGC floats deployed
In May and June, four new BGC floats have been deployed in the framework of the ERC REFINE project.
The LOV team deployed four BGC floats – some new Provor CTS5 Jumbo floats – in the Labrador Sea on board the R/V Celtic Explorer (Marine Institute, Galway, Ireland), through a campaign conducted as part of the "North-West Atlantic Biological Carbon Pump (NWA-BCP)" project.  They are dedicated to explore the Ocean Twilight Zone and address the key processes driving the Biological Carbon Pump.
Float preparation (on the left, © E. Leymarie/LOV) and deployment (on the right, © B. Dempsey/Dalhousie University).
The BGC floats were first tested at sea in March by the LOV team. © Thomas Jessin/LOV
New BGC floats featuring many innovations
For the first time, these four new BGC floats were equipped with the following innovative technologies:
an attenuation sensor (CRover) – a sensor typically used to measure the attenuation of light – is used here to measure the attenuation due to trapped sediments in order to calculate the rate of deposition of these sediments.  This sensor is associated for the first time with a multi-parking option at 200m, 500m and 1000m depth (the sensor is cleaned using a pump after each of these three steps),
the Underwater Vision Profiler (UVP6) embarking AI-based zooplankton recognition capabilities, according to pre-registered patterns for detected zooplankton specimens,
two hyperspectral Ramses radiometer from Trios to measure the downwelling and upwelling light fluxes (Ed / Lu) to determine reflectance.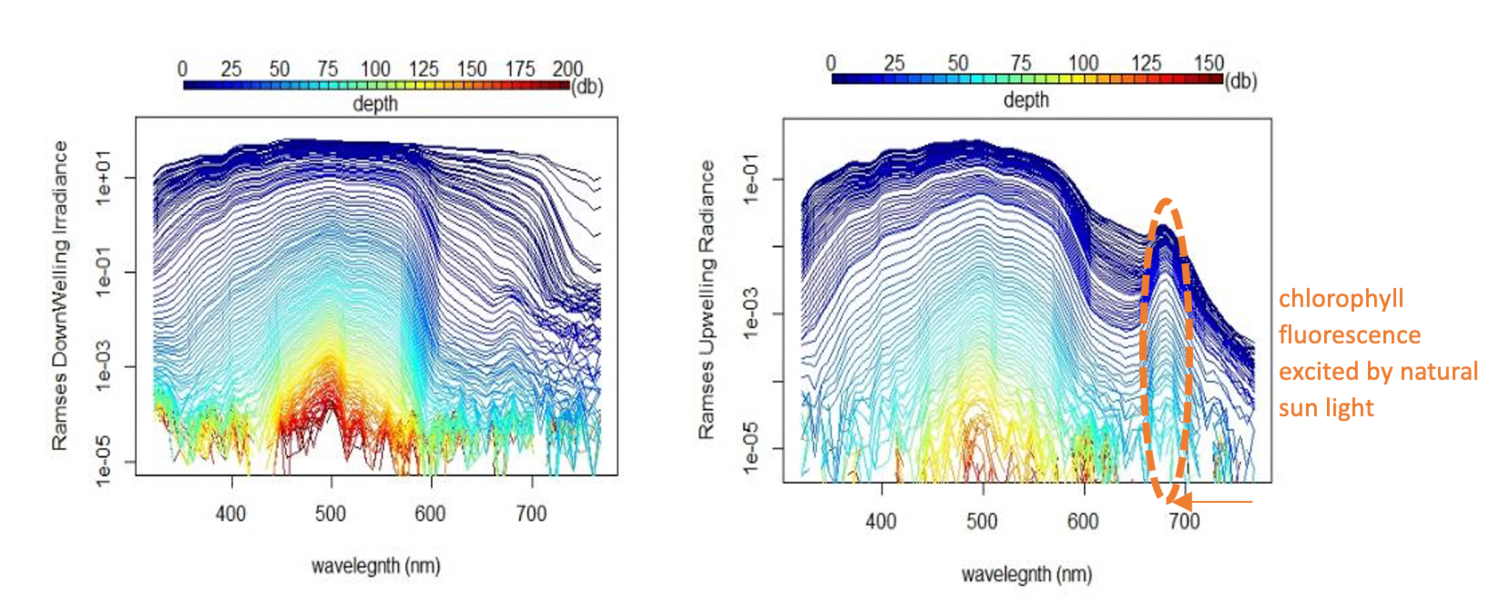 The first profiles of hyperspectral measurement of the downwelling Irradiance (Ed)
and the upwelling radiance (Lu). © E. Leymarie/LOV
REFINE aims to implement breakthrough in situ robotic process studies based on a new generation of highly instrumented jumboized profiling floats.
These deployments are the starting point of an expectedly long series of BGC Argo-based robotic process studies in nine key regions representative of the diversity of global oceanic biogeochemical conditions and their responses to climate change. Stay tuned!