Mediterranean and Black Seas workshop
Mediterranean and Black Seas workshop report:

D6.5
Dates: 8-9 April 2021
Format: ONLINE event, half-day sessions.
Organizing committee: Dimitris Kassis (HCMR), Giulio Notarstefano (OGS), Lara Diaz (SOCIB), John Allen (SOCIB), Vincent Taillandier (SU), Atanas Palazov (IOBAS), Violetta Slabakova (IOBAS), Estérine Evrard (EA ERIC)
For any other questions related with Mediterranean and Black Seas workshop, please email Dimitris Kassis (referent for the Mediterranean Sea) or Atanas Palazov (referent for the Black Sea). 
Teaser_Med&BS_Arctic&Baltic_workshopsJoin the Mediterranean and Black Seas & the Arctic and Baltic workshops on 8-9th April 2021!
Objectives of the workshop
Stakeholders are most welcome to attend and learn more about the role of Argo in the Mediterranean and Black Seas.
The objectives are to present scientific usage of Argo data and technical aspects of Argo (platforms, parameters, data..) to the audience. The role of Argo towards addressing environmental policies and operational monitoring for the society will be also highlighted.
General organisation and agenda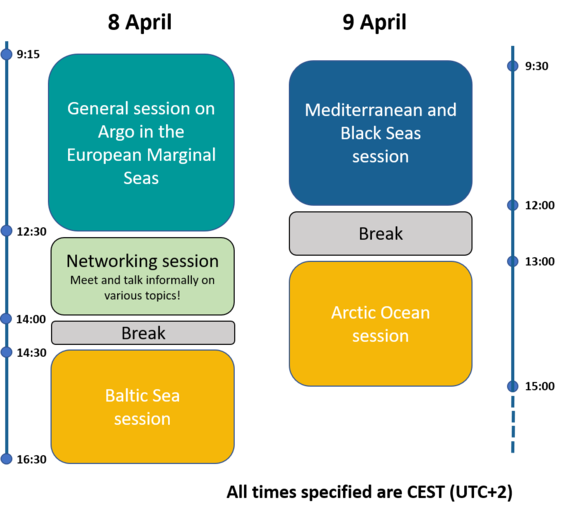 The final agenda is now available!

Final agenda
Topics of the workshop are presented below.
Welcome and overview of the organisation
Argo, Euro-Argo RI and Euro-Argo RISE
Argo float and at sea activity (pre-deployment testing, deployment, and recovery of an Argo float)
Parameters acquired (core + BGC)
Data availability/usage, Data flow and QC
Cooperation activities 
Synergies and cooperations between Marine RIs
General discussion 

Welcome and introduction to the Mediterranean and Black Seas session
EA RISE WP6 activities and scopes
Euro-Argo RISE float activities in the Mediterranean & Black Seas
Engage with teams and users
Argo for environment and marine strategy aspects
Link with other RIs/communities
Discussion on future collaboration and cooperation activities in the Mediterranean and Black Seas
Registration
Registrations are now closed. Please email contact for any complementary information.
Practical information
The morning slot of 8 April is common with the Arctic and Baltic users workshop and will propose a general session on Argo in the European Marginal Seas.
This event is 100% virtual. The link to the online sessions will be sent to registered participants.
Do you need more info? See below for reference documents: