Arctic and Baltic users workshop

Arctic and Baltic Users Workshop report:

D6.6
Dates: 8-9 April 2021
Format: ONLINE event
Conveners: Waldemar Walczowski (IO PAN), Laura Tuomi (FMI), Simo-Matti Siiriä (FMI), Petra Roiha (FMI), Ingrid Angel Benavides (BSH), Birgit Klein (BSH), Kjell-Arne Mork (IMR), Edouard Leymarie (SU-LOV).
For any questions related with Arctic and Baltic users workshop, please email Waldemar Walczowski (walczows@iopan.pl).
Teaser_Med&BS_Arctic&Baltic_workshopsJoin the Mediterranean and Black Seas & the Arctic and Baltic workshops on 8-9th April 2021!
Objectives
Stakeholders are most welcome to attend and learn more about the role of Argo in the Arctic Ocean and Baltic Sea.
The agenda of the workshop will focus on the following topics:
Baltic Argo activities
Arctic Argo activites
International collaboration in both regions
Operating Argo floats in shallow waters
Operating Argo floats in seasonally ice-covered sea
Recovering Argo floats
Sensors for core missions
Biogeochemical sensors
Quality Control
Where to find the data and how to use it
General organisation and agenda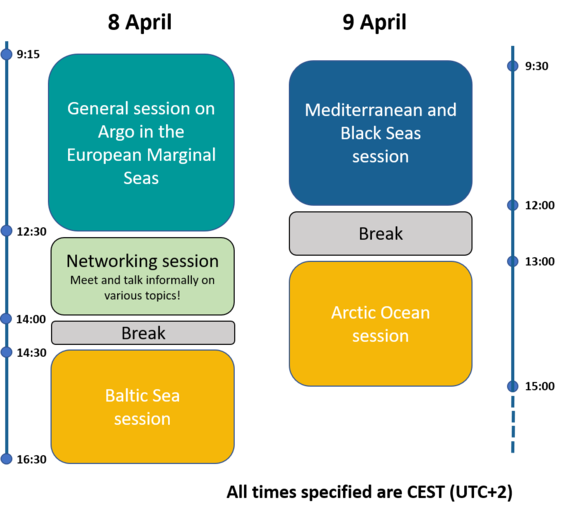 The final agenda is now available!

Final agenda
Registration
Registrations are now closed. Please send an email to contact for any complementary information.
Practical information
The morning slot of 8 April is common with the Mediterranean and Black Seas workshop and will propose a general session on Argo in the European Marginal Seas.
This event is 100% virtual. The link to the online sessions will be sent to registered participants.
Do you need more info?  See below for reference documents: