EuoSea Final General Assembly
About 200 stakeholders met for the EuroSea Final General Assembly on September 19th-20th and a subsequent symposium on September 21st, at the headquarters of the Intergovernmental Oceanographic Commission (IOC) of the United Nations Educational, Scientific and Cultural Organization (UNESCO) in Paris.
Within the framework of the EU project EuroSea , led by GEOMAR Helmholtz Centre for Ocean Research, 53 partners from 14 European countries as well as Brazil and Canada worked together to improve the European system for ocean observing and forecasting in a global context. In doing so, they provided an important basis for meeting the growing demand for information supporting social and political processes and decisions. Participants included scientific institutions as well as private sector partners and international organisations and networks such as IOC-UNESCO, the European Marine Board and the European part of the Global Ocean Observing System (EuroGOOS).
The EuroSea project has filled important knowledge gaps in the areas of ocean health and sustainable ocean management over the past four years and paved the way for an interdisciplinary and sustainable ocean observation and forecasting system. Furthermore, it has produced numerous innovations that improve ocean observing and forecasting at the European level, in a global context. All these results were shared by the working groups of the ten individual, interlinked work packages at the EuroSea General Assembly.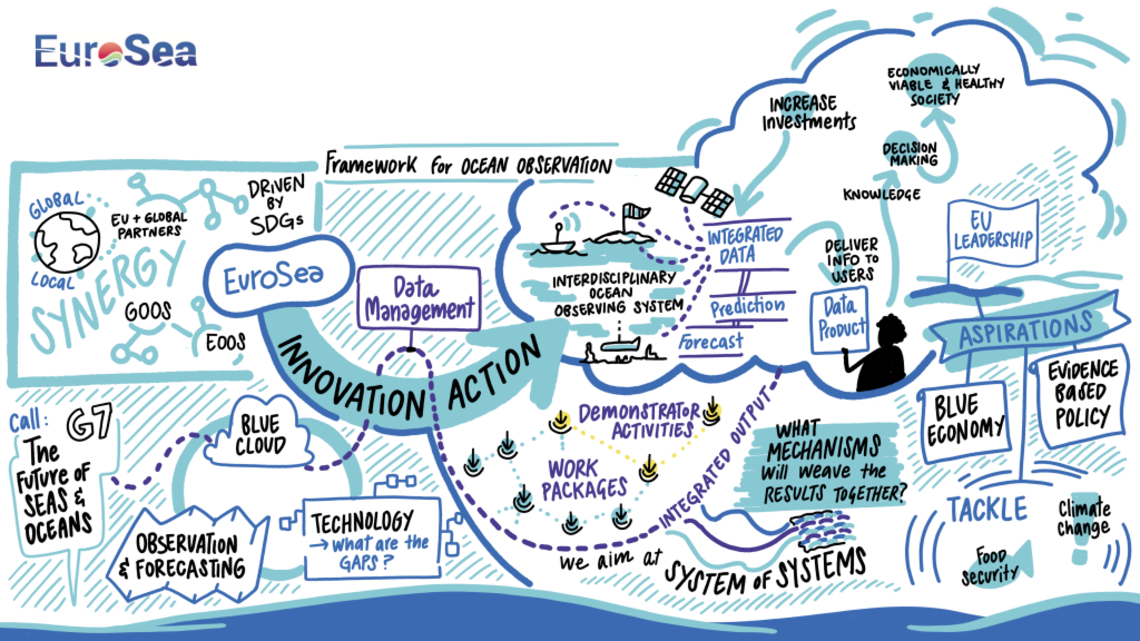 Euro-Argo took an active part presenting Argo evolution in Europe
During the presentation of the WP3 – Network Integration and Improvement – achievements, Claire Gourcuff, Euro-Argo ERIC Science Officer described the new strategy for Deep Argo and BGC Argo components, whose definition has been supported by EuroSea. In addition, she highlighted the need to refine the European strategy for OneArgo implementation, starting from this new Deep & BGC strategy, considering European specific needs (including specific requirements for high latitudes and Marginal Seas) and better integrating operational services requirements in collaboration with them (CMEMS, ECMWF in particular).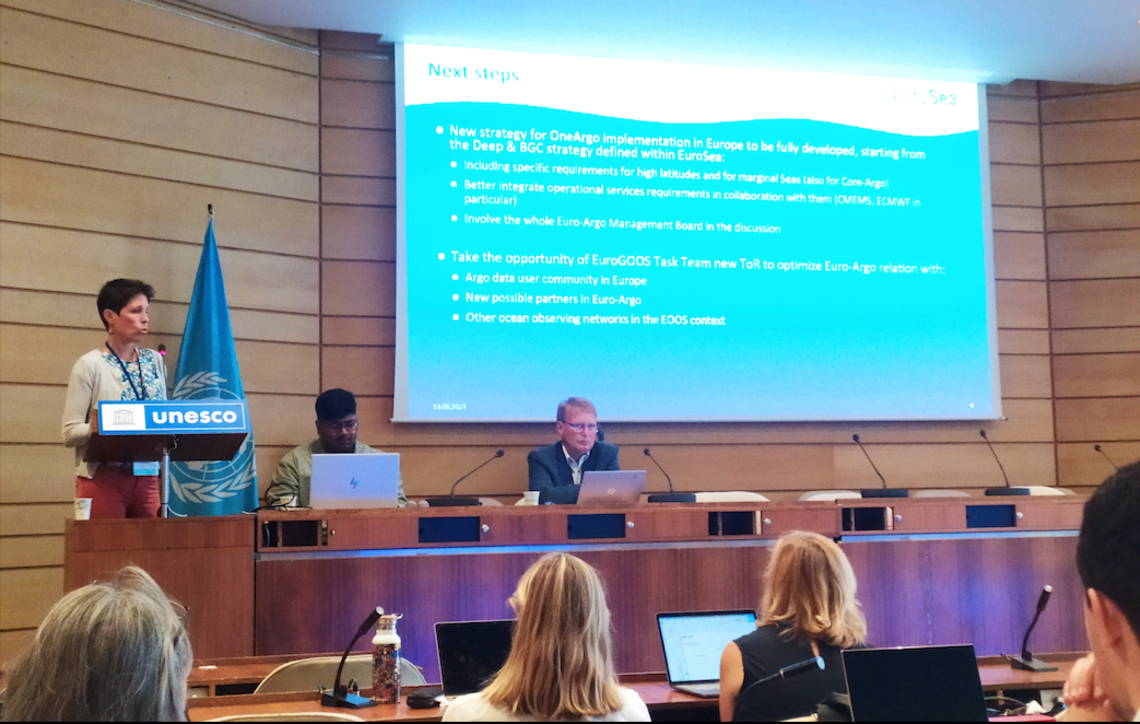 Claire Gourcuff, Euro-Argo Science Officer, presented the next steps for OneArgo implementation in Europe. © Euro-Argo ERIC
A fruitful symposium leading to a concrete commitment to advancing ocean observing and forecasting
At the subsequent final symposium, national and international stakeholders from politics, science and industry were able to find out more about the current state of innovations in the field of European ocean observation and forecasting. In addition to addressing upcoming challenges, the discussion focused on recommendations for an effective, sustainable and interdisciplinary system.
As a concrete outcome, the EuroSea Declaration , a commitment to advancing ocean observing and forecasting, has been officially published. This declaration signifies a continued joint effort among global stakeholders to address critical ocean challenges and ensure the sustainable future of our oceans.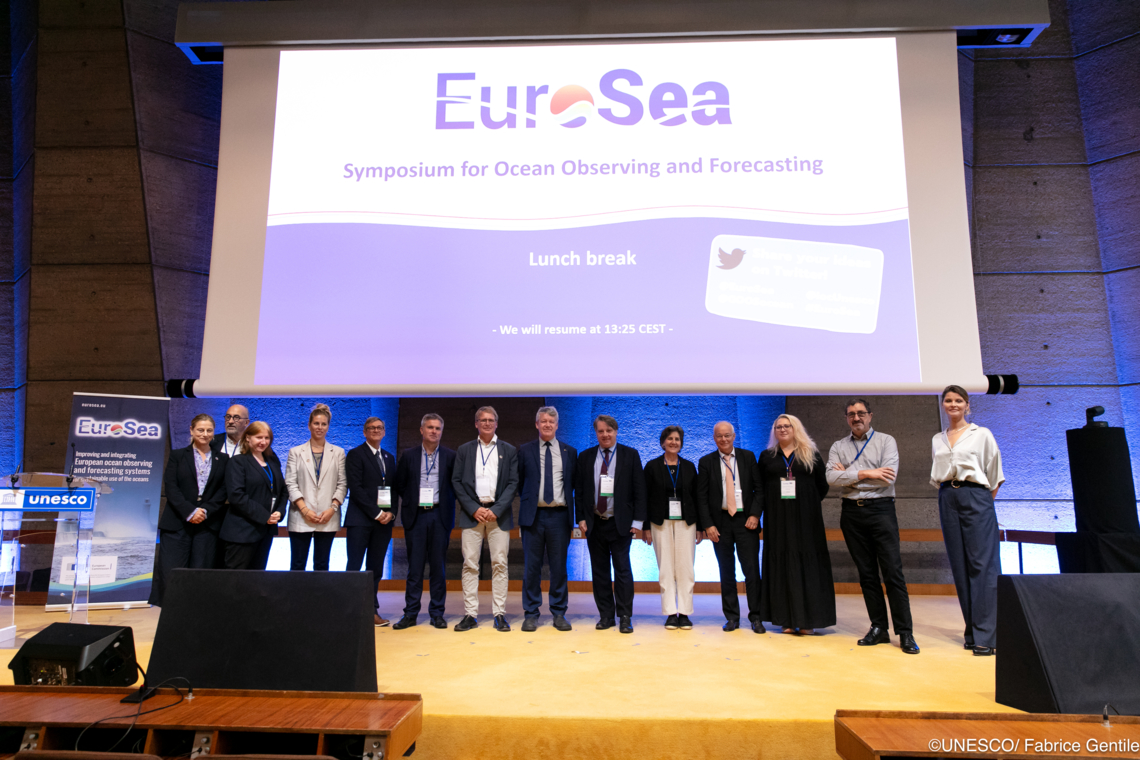 On stage, representatives of international research institutions shared their perspectives on national and international ocean observation and forecasting. Fiona-Elaine Straßer (4th from left) and Dr Toste Tanhua (7th from left) represented GEOMAR Helmholtz Centre for Ocean Research Kiel.
© Fabrice Gentile/UNESCO
Project funding:
The EuroSea project is a European Union innovation action funded with €12.6 million from 2019 to 2023 by the European Commission's Horizon 2020 research and innovation funding programme as part of a call to support the G7 Future of Seas and Oceans initiative.
Links:
EuroSea Project Website: https://eurosea.eu/
Watch the four videos about "EuroSea Symposium on Ocean Observing and Forecasting":
https://www.youtube.com/playlist?list=PLQbvHHhGCSJJ4vPMKAhPPynCkbEVO-Fdu