3 Euro-Argo floats deployed by Orange Marine
Last summer, the partnership between Euro-Argo and Orange has gained another momentum with the deployment of 3 Euro-Argo floats co-funded by Orange group and deployed from Orange Marine cable ship René Descartes in the Western Pacific.
Through active coordination between Master of C/S Descartes and Euro-Argo Operations Manager, three floats have been successfully deployed in August 2022 in poorly sampled areas around Mariana Islands, during a transit of the ship in the Pacific. This region, close to the Indo-Pacific Warm Pool, is characterised by permanent surface temperature above 28°C, making it the so-called "heat engine" of the globe. Its monitoring is therefore of outmost importance to track the global warming and critical to world oceanography and world climate. The instruments have been funded by Orange Group, while operating and data processing costs are covered by Euro-Argo Research Infrastructure.
5 years of partnership between Euro-Argo ERIC and Orange Marine
Since 2017, Orange Marine is taking part in the Argo international program through a partnership with Euro-Argo ERIC, making available - when possible - its fleet to launch some floats during transit or opportunity routes.
Indeed, cable ships from Orange Marine sometimes navigate in scarcely frequented areas and this represents great opportunities to deploy floats. "This partnership with Euro-Argo fits perfectly well with the environmental involvement of Orange Marine. We are very satisfied that deployments in low-populated areas contribute to the collection of data valuable for scientific research on the Ocean and climate change, as well as feeding operational oceanography services" indicates Julie Zarade, Quality Safety Environment Coordinator at Orange Marine.
Thirteen floats have been launched from Orange Marine fleet since the beginning of this partnership. They are all active and routinely collect and transmit data feeding Argo scientific and societal applications. They can be monitored on Euro-Argo fleet dashboard.
Further perspectives for expanding the partnership between Orange and Euro-Argo are joint participation to internal conferences on ocean observations, possible contribution to the development of ocean literacy and educational activities, or contribution to the expansion of Euro-Argo network to "OneArgo": the Core program of measurements of global temperature and salinity, with missions extended towards deeper depths, coastal areas and biogeochemical variables.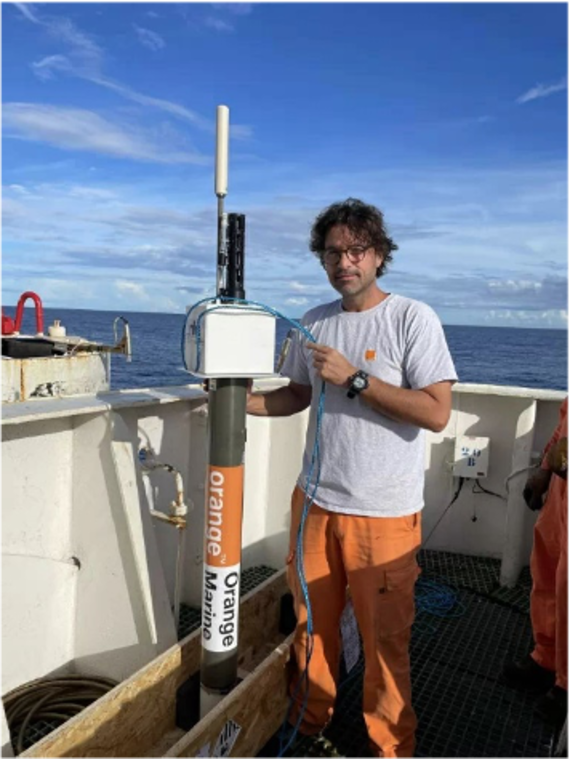 Euro-Argo Orange float prepared and tested (left) by the crew, before its launch (right) in the Pacific Ocean during transit of C/S René Descartes. © Orange Marine
About Orange Marine
Orange Marine is specialised in the field of submarine telecommunications from the initial design and engineering, to the installation of intercontinental and regional links, and maintenance of existing cables. In operation since the mid-nineteenth century, the submarine cable industry FCR – France Cables and Radio - became a 100% subsidiary of Orange Group in 1999. The Orange Marine fleet is one of the most experienced in the world and represents 15% of the world fleet. In total, Orange Marine has installed more than 160,000 kilometres of fibre optic submarine cables in all oceans, of which 18,000 were buried. The ships carried 550 repairs on routes, some of which by 5.500 metres of depth.
About Orange
Orange is one of the largest global telecoms brand, a major network operator and digital service provider, with 271 million customers, +5,000 stores and 140,000 employees. Orange is present in 26 countries.
About Euro-Argo
Euro-Argo is a distributed Research Infrastructure that organises and federates the European contribution to the Argo international programme for in situ ocean observations. Euro-Argo provides enhanced coverage in the European regional seas by deploying and operating an array of around 800 floats corresponding to ¼ of the global Argo array of profiling floats, which measure temperature and salinity every 10 days throughout the deep global oceans. It delivers data both in real-time and delayed mode for climate change research and monitoring as well as operational services such as Copernicus. It also aims at developing the new phase of Argo extending the network to abyssal oceans, biogeochemical parameters, marginal seas and high latitudes.
Our vision is that by 2033, Euro Argo ERIC will have revolutionised the European capacity of observing the interior of the ocean from the surface to the abyss, inspiring the science we need for a sustainable ocean and contributing to society's well-being and resilience. Our mission is therefore to develop a long-term, sustainable European contribution to the OneArgo global ocean monitoring system, to better understand and predict the ocean, its role in the climate system and its health.