7th Argo Science Workshop successfully held!
Moving into its third decade of operation, Argo is expanding its observations into the deep seas, the sea ice covered regions, the marginal seas, and the biogeochemical realm. Implementation of the new global, full-depth and multidisciplinary OneArgo array has just started, opening new perspectives.
In this context, the 7th Argo Science Workshop aimed to bring together ocean science research that has employed Argo data and products to further improve our knowledge of the changing oceans and highlight the applications that the new OneArgo array is opening.
The workshop was hosted by Euro-Argo as an hybrid event, in Brussels, on October 11-12-13th. It was organised along three thematic sessions:
Ocean climate
Modelling & satellites
Biogeochemistry
OneArgo family picture!
A round table discussion on "Ensuring the sustainability of OneArgo" was also organised at the end of the 2nd day. On this occasion, the disparity between Europe where Argo funds mainly come from Research grants and the USA, relying more on operational funding lines, was highlighted. The key message from the discussion was the important need for advocacy efforts from the OneArgo community towards the funding bodies.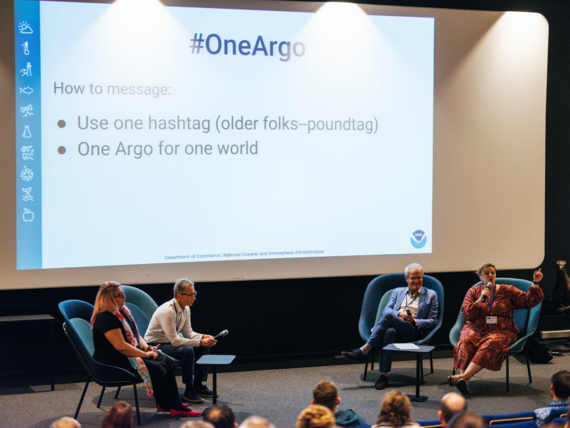 Invited panelists to the roundtable "Ensuring the sustainability of OneArgo" at the 7th Argo Science Workshop. From left to right: Zoi Konstantinou (DG MARE), Pierre-Yves Le Traon (CMEMS), Yann-Hervé De Roëck (Euro-Argo ERIC, moderator), Emily Smith (NOAA) and Hao Zuo (ECMWF, not present on the picture).
More than 100 participants attended the workshop in person, and more than 50 virtually, from about 15 countries. 45 live talks were given, and 57 posters were displayed online, some of them being introduced by flash-talks.
The high-level science results presented highlighted the variety of applications enabled by OneArgo, and opened stimulating discussions between participants. An Argo Town Hall was also the opportunity for the attendees to ask open questions to experts from the Argo community representing different fields.
Long breaks were also scheduled to allow informal discussions and written chat discussions through the dedicated channels set-up for the posters.
The ASW7 plenary room and the Argo Town Hall session. 
The posters as well as their discussion channels are still available on the workshop dashboard for registered participants, together with slides of the talks and the workshop recordings.